Siphra's Charisma to Reedly Road «
Afina

»

Russian Junior CH, Russian CH, Ukrainain CH, RKF CH, 6õCACIB
CC at Swedish Sighthound Specialty at Mariefred-2006
Siphra's Charisma to Reedly Road
ð.18/01/05
owner: Maria Evteeva & Natasha Tsybenko

18 months, photo by M.Evteeva
8 months, photo by: M.Evteeva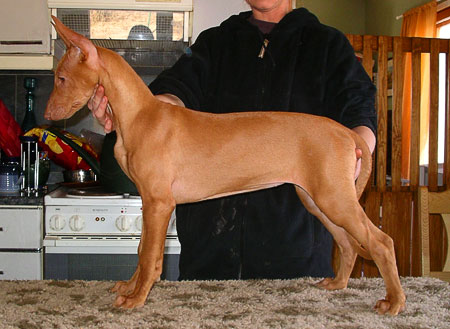 2,5 months, photo by: M.Evteeva
Afina lives with our friend Natasha Tsybenko in the city of Rostov-na-Donu at the south of Russia. A small basenji family and two big females of Moscow Guard Dog (Russian national breed, a mixture of Caucasian Ovcharka and St.Bernard, not recognized by FCI yet) keep a company for Afina.
Afina is undoubtedly one of the best bitches in our kennel. She is very young, but her show career is great indeed. We are proud of her every winning - well done, Afina and Natasha!
By the age of 18 months Afina has won: 4 BIS puppy placements, 4 BIS junior placements (including 2xBIS-III at CACIB shows), 2xBIS junior, 6õBest-in-Group and a few Best-in-Show final placements!
Out thanks to Afina's breeder Britt-Marie Sundquist for this wonderful dog.
We plan to have puppies out of Afina at the end of 2007.
CH Anubis Horus of Ghazzi – Isis (USA)
CH Shema's GhazziKhan
Twinley King Sesostris
Changa

'

s Shema Suntorri
Anubis Isis of Dazzling Sun
Deanza

'

s Anubis Tutankhamon
K

'

Azar Daylight Dazzle
CH Magicway's Min for Siphras
CH Siphra's Summernight City
CH Antefa's Jem-Seti
CH Sceik's Orchid
CH Chefren Min Mut
Tutankhamon
Neferkare Ramses El Kabul